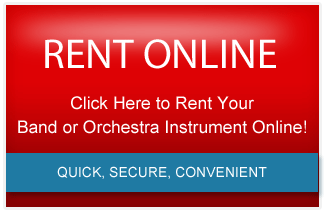 WELCOME TO THE ORCHESTRA PROGRAM! - Dorsey Music specializes in orchestra instruments and has both a knowledgeable staff with over 40 years of experience and experts in every department.

NO OBLIGATION – There is a two-month minimum rent (non-refundable), and then you may return the instrument at any time with no further obligation.
ALL RENT APPLIES! - All rent paid is applied to the purchase.
If you would like to purchase with no additional fee, we also offer a "6 Months Same as Cash" plan: Pay the balance within the first six months of the rental contract, and there are no extra charges. Rent is not pro-rated.
WE RENT BOTH NEW & USED INSTRUMENTS – You can decide whether you wish to rent new or used.
CHANGING INSTRUMENTS – We will apply one-half of the rent paid on the current instrument toward the purchase price of another similar instrument of same or greater value during the rental period.
GUARANTEE – We guarantee (with no additional charge) used instruments and rental return instruments to be in good playing condition for 60 days.
RENTAL PRICES – Rental prices depend upon each individual instrument's purchase price, manufacturer, condition (new or used) and the durability/fragility of the instrument.
Orchestra Rentals
Instrument:
Monthly Rental Price Range


(Used to New)*

Violin

$17 - $55




Viola

$17 - $55




Cello

$39 - $145




String Bass

$59 - $229




Upgrade Bows

$35 - $75
For students enrolled in school or private music programs.
All instruments rentals are subject to availability at time of rental.
Prices are subject to change without notice.